PIB Press Releases
India aims at becoming a 'Global Hub for Green Ship' building by 2030 with the launch of the Green Tug Transition Programme(GTTP): Shri Sarbananda Sonowal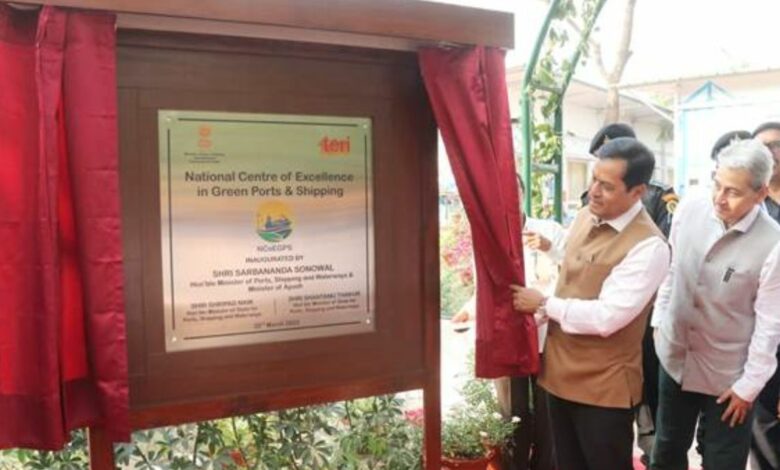 Shri Sarbananda Sonowal inaugurates India's First National Centre of Excellence in Green Port & Shipping
Union Minister of Ports, Shipping & Waterways (MoPSW) and Ayush Shri Sarbananda SonowaI have said India aims at becoming a 'Global Hub for Green Ship' building by 2030 with the launch of the Green Tug Transition Programme(GTTP). Inaugurating India's first National Centre of Excellence in Green Port & Shipping (NCoEGPS) in Gurugram, Haryana yesterday he said the programme will start with 'Green Hybrid Tugs', which will be powered by Green Hybrid Propulsion systems, and subsequently adopt non-fossil fuel solutions like (Methanol, Ammonia, Hydrogen). The Minister said a target has been set for the initial Green Tugs to start working in all major ports by 2025. At least, 50% of all the Tugs are likely to be converted into Green Tugs by 2030, which will considerably reduce emissions as the country moves towards achieving sustainable development, he added.
Shri Sarbananda Sonowal said as India took the presidency of G20, it gives him immense pleasure to announce these initiatives as a major endeavour of the government towards a cleaner, greener environment. He said under the visionary leadership of Prime Minister Shri Narendra Modi we have been working towards strengthening our efforts towards building self-reliance in Green Ship Building as well as installation of green solutions in all possible areas under the Ministry's purview. He said we hope to become the global hub of Green Ship Building by 2030 as we witness tremendous business potential and yet remain completely dedicated to building a greener world.
Taking about the first Centre of Excellence the Minister said the centre is a major attempt by the Ministry towards realising Prime Minister Shri Narendra Modi's Mission LiFE movement. He said as per the vision of the Prime Minister this movement is going to be an India-led global movement for collective action to protect & preserve Environment. He said its centre is an important step towards this movement as it aims to transform ports and shipping turn more Environment friendly. He said this is a sincere attempt in the quest of the country to become carbon neutral by 2070 as envisioned by the Prime Minister.
The country's first National Centre of Excellence in Green Port & Shipping (NCoEGPS) is the result of a collaboration between the Ministry of Ports, Shipping & Waterways, the Government of India and the Energy and Resources Institute (TERI). With the NCoEGPS acting as the Nodal entity for the industry, the plan is afoot to make India as the 'Global hub for building Green Ships' by 2030. With these initiatives, the Centre is aimed at playing a crucial role towards the achievement of the UN's Sustainable Development Goal (SDG 14) to sustainably manage and protect marine & coastal ecosystems from pollution, conservation & sustainable use of ocean-based resources. The Centre will engage in developing the regulatory framework and alternative technology adoption roadmap for green shipping in India. The centre – housed within the TERI complex in Gurugram – will work towards meeting the obligations under the Paris Agreement.
The PM Gati Shakti – National Master Plan for Multi-Modal Connectivity along with the Green Ports initiative has already accelerated the development of a green logistics supply chain in the country. The ports have also aimed to reduce Carbon emissions per ton of cargo handled by 30% by 2030. The Maritime Vision Document 2030, released by Prime Minister Shri Narendra Modi is a 10 Year blueprint on India's vision of a sustainable Maritime sector and vibrant blue economy.
India has been selected as the first country under the IMO Green Voyage 2050 project to conduct a pilot project related to Green Shipping. The ministry has already identified Paradip Port, Deendayal Port and V.O. Chidambaram Port to develop as Hydrogen Hubs – capable of handling, storing and generating of green hydrogen by 2030. With the development of these infrastructures, India will be able to export Green Hydrogen, produced in the country using renewable sources, with the support of NCoEGPS in technology and market leadership.
NCoEGPS will act as a technological arm of MoPSW for providing the needed support on Policy, Research and Cooperation on Green Shipping areas for Ports, DG Shipping, CSL and other institutions under the umbrella of MoPSW. The Center will be a host of several technological arms to support the port and shipping sector and will provide solutions to a variety of problems being faced in the industry through scientific research. It will also carry out valuable education, applied research and technology transfer in maritime transportation at the local, regional, national and International levels. It will focus on the following areas like energy management, emission management, Sustainable Maritime Operations etc.
The NCoEGPS aims at empowering 'Make in India' in Port, Coastal and Inland water transport, and Engineering by developing state of art technologies and application products. It will enable fast-track innovations in order to provide the most appropriate solutions to various challenges in these sectors. The Centre also aims to create a pool of competent manpower in the industry equipped with state-of-the-art theoretical and practical know-how.
The NCoEGPS will work on 10 crucial projects, including ones on developing a regulatory framework for the usage of wind energy for marine applications and identifying a suitable biofuel for blending with conventional marine fuels. It will also work towards identifying a fuel cell technology for long-haul shipping as well as developing a regulatory framework for the transportation of hydrogen up to 700 bar pressure. It will also prepare detailed project reports on low energy consumption ports, and on an offshore platform for tapping solar energy, production, storage and usage of green hydrogen.
The event was also attended by Shri Sudhansh Pant, Secretary, MoPSW, Dr Vibha Dhawan, Director General of TERI and other senior officials of TERI as well as the ministry.
Disclaimer: This is an official press release by pib.