PIB Press Releases
Investor Education and Protection Fund Authority (IEPFA) and India Post Payments Bank (IPPB) organise a Cycle Rally for Investor Awareness in Tamil Nadu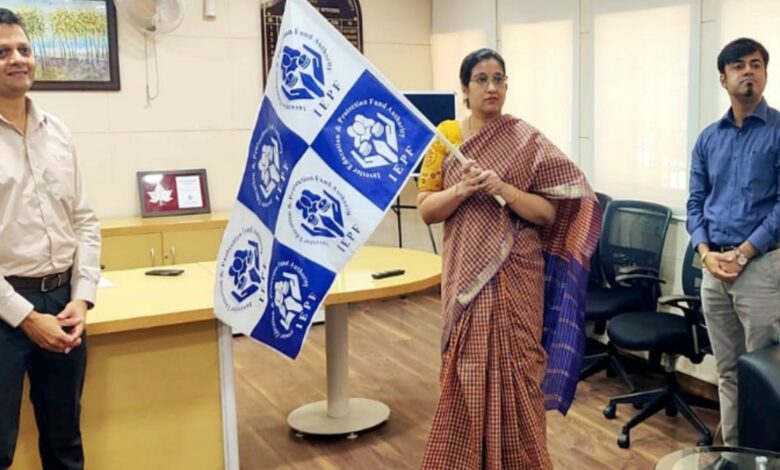 In a spirited celebration of India's upcoming Independence Day and Azadi Ka Amrit Mahotsav, Investor Education and Protection Fund Authority (IEPFA) CEO Ms Anita Shah Akella, flagged off a cycle rally via video conference, with more than 50 girl students from Govt. Girls Higher Secondary School in Kanchipuram participated in the cycle rally on the theme "From Unawareness to Financial Independence."
The primary objective of this rally was to empower individuals with essential financial knowledge, steering them on the path to financial independence. Amidst the lively cheers and camaraderie, the cyclists embarked on a rally that encompassed multiple key points across the Kanchipuram district, with every pedal serving as a metaphor for progress and enlightenment.
During her Keynote address, Smt. Akella said, "The participation of 50 enthusiastic girls in yesterday's cycle rally spoke volumes about the transformative power of awareness. The young participants not only empower themselves but also symbolise the potential to amplify the impact of financial literacy. The commendation was given to the efforts of team IEPFA and IPPB in combatting fraudulent schemes, especially in the regions of Tamil Nadu, highlighting the importance of such initiatives for safeguarding communities, by focusing on educating girls and women.
The influence thus created extends beyond boundaries, shaping a macro level financial futures and elevating the financial literacy of families and communities. The day marked a pivotal moment in fostering a safer financial landscape, celebrating the commitment of young participants and initiatives that contribute to a stronger society. The call was to empower girls and women as the change agent society needs."
More than 500 locals and government officials from diverse departments joined hands to celebrate the essence of financial education. As the wheels turned and the message echoed, the rally communicated the transformative power of investor education. It resonated with the underlying theme, reminding everyone that every step towards financial awareness contributes to building a self-reliant and prosperous nation.
About IEPFA
The Investor Education and Protection Fund Authority (IEPFA) was set up on September 7, 2016, under the aegis of the Ministry of Corporate Affairs, Government of India, for administering the Investor Education and Protection Fund for making refunds of shares, unclaimed dividends, and matured deposits/debentures, among other things, to investors.
About IPPB
India Post Payments Bank (IPPB) was set up under the Department of Post, Ministry of Communication with 100% equity owned by the Government of India. IPPB was launched as a pilot project on 30 January 2017 in Ranchi (Jharkhand) and Raipur (Chhattisgarh), with the objective of being present across India by the FY 2018-2019. IPPB has expanded its strength across India covering post offices, through a network of one Branch and 649 Banking outlets manned by Business Correspondents, working on a hub and spoke model.
Disclaimer: This is an official press release by Pib.