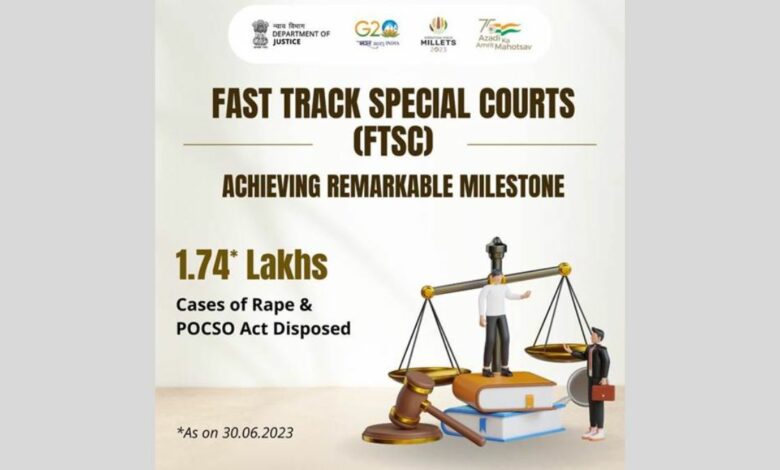 Under the Centrally Sponsored Scheme of the Department of Justice, Ministry of Law & Justice, Fast Track Special Courts (FTSCs) disposed of 1.74 lakhs cases of Rape & POCSO Act as of 30.06.2023, providing speedy justice to the victims.
Championing the cause of safety and security of women and girl children, the Government provided for stringent punishment including the death penalty for perpetrators of rape by passing the Criminal Law (Amendment) Act, of 2018. Incidents of sexual offences and prolonged trials of the accused necessitated dedicated court machinery to provide immediate relief to the victims.
Since October 2019, the Department of Justice has been implementing a Centrally Sponsored Scheme, to set up 1023 Fast Track Special Courts (FTSCs) including 389 exclusive POCSO Courts across the nation for expeditious trials relating to sexual offences. Each court comprises of 1 Judicial Officer and 7 Staff Members. Out of 31 States and UTs eligible, 28 have joined this scheme. Puducherry made a special request to join the Scheme and the one exclusive POCSO Court was operationalized in May 2023.
The Scheme was initially for a period of one year spread over two Financial Years 2019-20 and 2020-21 at a total outlay of Rs. 767.25 Cr. with Rs. 474 Cr. as Central Share to be met from Nirbhaya Fund. The Cabinet further approved the continuation of the Scheme of FTSCs for two years i.e. up to March 2023 with a total budgetary outlay of Rs. 1572.86 Cr. with Rs.971.70 Cr. as central share. Further extension of the Scheme is under process.
In FY 2019-20, Rs. 140 Cr, in FY 2020-21 Rs.160.00 Cr, in FY 2021-22, Rs.134.56 Cr, and in FY 2022-23, Rs. 200.00 Cr was released to States as Central Share.
As of June 2023, 763 FTSCs including 412 exclusive POCSO Courts are functional in 29 States / UTs which have disposed of more than 1,74,000 pending cases. During the F.Y 2023-24, a total of Rs. 200.00 Cr. has been allocated, out of which Rs. 100.37 Cr. has been released till 31st July 2023 as a Central share of funds for the functioning of such FTSCs in the States/UTs.
For the robust implementation of the Scheme, this Department has created an online monitoring framework for monthly monitoring of case statistics. Regular review meetings with the Registrar Generals of High Courts and State functionaries are being undertaken.
Disclaimer: This is an official press release by Pib.