PIB Press Releases
Ensure that BIS Certification is enforced on required products for consumer safety: Secretary, Department of Consumer Affairs
Time Dissemination Project by ISRO and NPL Aims to Reduce India's Dependence on Western Time Accuracy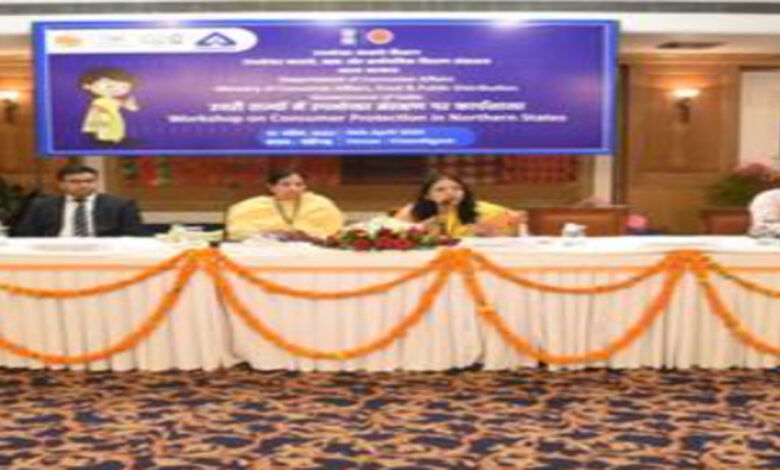 State heads should ensure that BIS Certification is enforced on required products for consumer safety, said Shri Rohit Kumar Singh, Secretary, Department of Consumer Affairs in Chandigarh today. He discussed the Time Dissemination Project by ISRO in collaboration with NPL to reduce India's reliance on Western countries for time accuracy. He encouraged consumers to use NCH 1915 and mentioned that one-third of pending cases involved insurance companies and real estate.
Department of Consumer Affairs (DoCA), Govt of India in collaboration with Food, Civil Supplies and Consumer Affairs Department, Union Territory of Chandigarh organized a day-long workshop on "Consumer Protection in the Northern States" in Chandigarh today. The event aimed to address the critical issues faced by consumers in the market, such as misleading advertisements, product liability and the role of consumer commissions in proper redressal.
The workshop was attended by Shri Rohit Kumar Singh, Secretary, Department of Consumer Affairs, Govt of India, Ms. Nidhi Khare, Additional Secretary, Department of Consumer Affairs, Govt of India, Sh. Vinod P.Kavle, IAS Secretary, Department of Food & Supplies and Consumer Affairs and Legal Metrology, Chandigarh Administration and senior officials from Haryana, Punjab, Chandigarh, Uttarakhand, Himachal Pradesh, Jammu & Kashmir, and Ladakh.
In his inaugural address, Shri Rohit Kumar Singh highlighted the collective efforts of the Department of Consumer Affairs, National Commission, State Commissions, District Commissions, and other organizations like BIS, NTH, Legal Metrology, and National Consumer Helpline in protecting consumer interests. He emphasized the role of technology in strengthening the consumer protection ecosystem and the importance of infrastructure and human resources in consumer commissions.
The Secretary also underlined the role of the Bureau of Indian Standards (BIS) as the National Standards Body of India in developing Indian Standards and implementing voluntary and mandatory standards, such as Quality Control Orders. The Legal Metrology and Weights and Measures departments ensure that consumers receive accurate quantities of products as claimed by manufacturers.
Department of Consumer Affairs plays a vital role in maintaining a balance between affordability and availability, controlling inflation in food commodities through its Price Monitoring Division. Shri Rohit Kumar Singh urged all states to establish price-collecting centres in all districts and announced the department's intention to achieve a target of 750 price-collecting centres by March 31st, 2024, with financial support provided by the department.
The workshop attendees discussed various recent initiatives of the Department, including the launch of BIS standard IS 1900/2022 on fake reviews, which requires e-commerce companies to adhere to these standards within their policy of generating and publishing reviews on their platforms.
The role of Consumer Commissions in reducing the pendency of cases was also highlighted, with Shri Rohit Kumar Singh informing that one-third of the pending cases pertained to the insurance sector. The department is working to target the genesis of complaints by participating in Lok Adalats and engaging with Insurance companies, the Department of Financial Services, and IRDAI. In this regard, the department conducted a day-long Round table Conference on the Consumers & Insurance Sector on February 8th, 2023. The report of the conference has been prepared and shared with the concerned Ministries and Departments.
Smt. Nidhi Khare, Additional Secretary, DoCA, Govt of India, stressed the use of digital technology to protect consumer rights, reduce the pendency of cases in consumer commissions, and the importance of moving towards mandatory e-filing. She highlighted the work of DoCA on misleading advertisements, endorsement guidelines, e-commerce platforms, and direct selling guidelines, and urged consumers to be cautious of misleading ads on all platforms. She also made consumers aware of gambling games, products without BIS Certification, and influencers promoting products.
Sh. Vinod P. Kavle, Secretary, Department of Food & Supplies and Consumer Affairs and Legal Metrology, Chandigarh Administration, emphasized the need to enhance consumer protection measures, tackle major market challenges such as misleading advertisements and product liability issues, and strengthen consumer commissions for proper redressal. He urged stakeholders to collaborate in safeguarding consumers' interests and rights and called for capacity building, training, and technology adoption in consumer commissions to improve efficiency and effectiveness. Sh. Kavle's remarks at the workshop highlighted the commitment to address consumer challenges and underscored the collective effort required to enhance consumer protection mechanisms across the northern states and the country.
During the workshop, various presentations and panel discussions took place, focusing on crucial aspects of consumer protection, including:
The use of technology for grievance redressal and the implementation of the e-Daakhil system to streamline the complaint filing process.
The role of the Central Consumer Protection Authority (CCPA) in taking necessary actions to protect consumers' rights, particularly concerning e-commerce platforms and misleading advertisements.
The importance of creating awareness among consumers about their rights and responsibilities, and promoting a culture of assertiveness against unfair practices by businesses.
Collaboration between various government departments and agencies to ensure better enforcement of consumer protection laws and regulations.
The need for capacity building and training for consumer commissions' staff and members to improve their efficiency and effectiveness in handling consumer complaints.
The promotion of consumer education through campaigns, workshops, and seminars to increase public awareness about consumer rights, responsibilities, and the redressal mechanisms available to them.
The workshop concluded with the participating states and stakeholders committing to working together to strengthen consumer protection mechanisms in their respective jurisdictions. The Department of Consumer Affairs will continue to collaborate with states and other stakeholders to ensure the effective implementation of consumer protection laws, regulations, and initiatives for the betterment of consumers in the northern states and across the country.
Disclaimer: This is an official press release by pib.