PIB Press Releases
Deendayal Antyodaya Yojana – National Rural Livelihood Mission and SIDBI sign of MOU that marks a significant milestone in the journey of women-led enterprises
Primary focus of this collaboration is to demonstrate on-the-ground activities that establish a reliable and sensitive support structure for the capacity enhancement of women entrepreneurs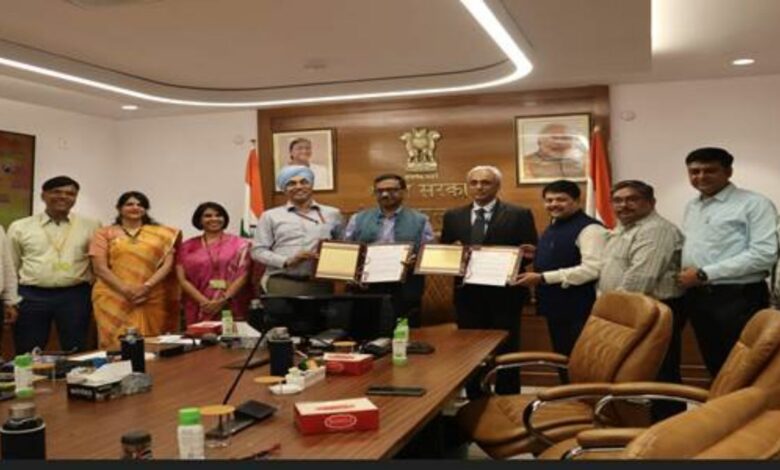 Deendayal Antyodaya Yojana – National Rural Livelihood Mission (DAY-NRLM) under the Ministry of Rural Development and the Small Industries Development Bank of India (SIDBI) signed a historic Memorandum of Understanding (MOU) that marks a significant milestone in the journey of women-led enterprises in India. The MoU, which is set to span two years, was inked today by DAY-NRLM and SIDBI in the presence of Secretary Rural Development Shri Shailesh Kumar Singh and Chairman & Managing Director SIDBI Shri Sivasubramanian Ramann.
Additonal Secretary Rural Livelihoods Shri Charanjit Singh signed the document on behalf of DAY-NRLM while SIDBI was represented by their Chief General Manager Dr. S. S. Acharya. Other dignitaries present during the event were Smt Smriti Sharan and Smt Swati Sharma Joint Secretaries Rural Livelihoods, Director Rural Livelihoods Shri Raghavendra Pratap Singh and Dy. General Manager SIDBI Shri Saurav Bajpai.
This strategic partnership brings together the expertise of DAY-NRLM and SIDBI to create a transformative initiative aimed at promoting women-led enterprises among experienced members of Self Help Groups (SHGs). The primary focus of this collaboration is to demonstrate on-the-ground activities that establish a reliable and sensitive support structure for the capacity enhancement of women entrepreneurs (WEs). Furthermore, it aims to institutionalize standard protocols, systems, and procedures for streamlined access to formal finance, as well as the development of a comprehensive framework for new financial products and schemes.
Key outcomes expected from this collaboration are:
Enhanced capacity and ability of State Rural Livelihood Missions (SRLM) teams to promote the graduation of seasoned SHG members into micro-entrepreneurs
The establishment of a reliable and sensitive support architecture for women-led enterprises, involving a network of field cadres, mentors, and experts
The implementation of standardized protocols within DAY-NRLM to support women-led enterprises
The formation of partnerships with financial institutions and a network of financiers
The design and implementation of new financial schemes, such as credit guarantees and interest subventions
The creation of clear, scalable models for promoting women-led enterprises that can be replicated nationwide
This strategic partnership reflects the Government's commitment to women's economic empowerment and entrepreneurship, focusing on making the entrepreneurial landscape more inclusive and supportive of women-led businesses. By combining the strengths of DAY-NRLM and SIDBI, this initiative seeks to open up new avenues for women entrepreneurs, ultimately contributing to the economic growth and prosperity of the nation.
Disclaimer: This is an official press release by Pib.