PIB Press Releases
CSIR-NIScPR organized a Meeting of the Water & Environment Sub-Committee under the SVASTIK initiative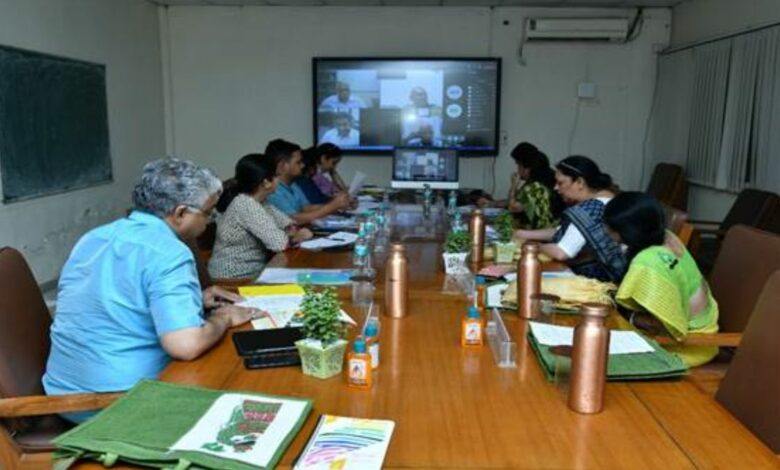 As a part of the national initiative for communicating India's scientifically validated traditional knowledge to the society branded as SVASTIK (Scientifically Validated Societal Traditional Knowledge), CSIR-National Institute of Science Communication and Policy Research (NIScPR) hosted the first meeting of the Water, Ecology & Environment Sub-committee chaired by Prof B N Jagatap, Senior Professor, IIT Bombay in hybrid mode.
Eminent experts including, Prof Pradeep P Mujumdar, Dr Virendra M Tiwari, Dr L S Rathore, Dr Manohar Singh Rathore, Prof Saroj K Barik, Prof Anil P Joshi, Dr Pushpendra K Singh, Dr Viswajanani J Sattigeri attended the sub-committee meeting. SVASTIK team members from NIScPR were also present in the meeting. Prof Ranjana Aggarwal, Director, CSIR-NIScPR, welcomed the experts and gave a brief introduction about SVASTIK activities and its digital footprint. Dr Charu Lata, Head, IH&TKS, CSIR-NIScPR, gave a glimpse of the activities taken up under SVASTIK through her presentation.
The experts shared their experiences and suggested measures to document and disseminate Indian traditional knowledge and practices in the areas of water conservation, rainwater harvesting, surface water management, and water purification. Prof Pradeep P Mujumdar, IISc, Bengaluru provided a timeline of Hydrology in Ancient India through his brief presentation. Padma Bhushan Prof Anil Joshi exhorted on the need to understand the science behind nature for sustainably protecting and conserving water, ecology and environment.
Prof Saroj K Barik commented on the need to promote and create awareness of the importance of the ancient water conservation systems to society. In addition, traditional knowledge in biodiversity conservation measures such as scared groves and bun cultivation were also discussed.
The sub-committee meeting ended with an open discussion on measures to disseminate Indian traditional knowledge with a scientific basis on water conservation and various ecological practices.
Disclaimer: This is an official press release by pib.