PIB Press Releases
Completion of One-year-long Cleaning and Desilting of a 3 km stretch of Barapullah Drain in Delhi under the Waste to Wealth Mission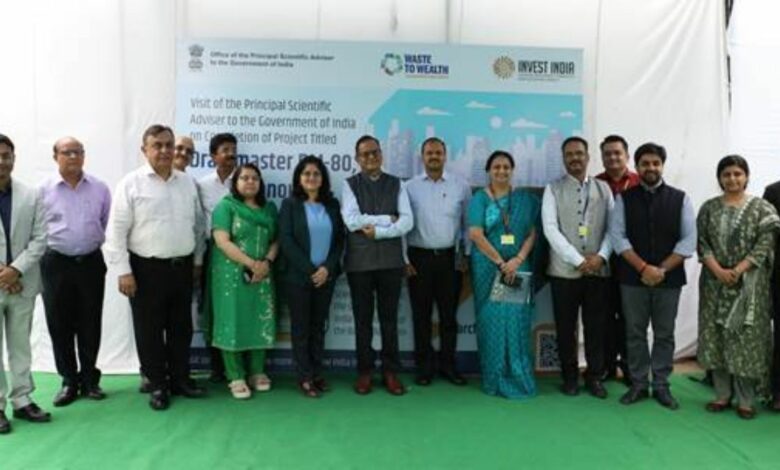 Prof. Ajay Kumar Sood, Principal Scientific Adviser (PSA) to the Government of India, visited the stretch of Barapullah drain near Bhogal Market in South Delhi on March 20, 2023, to witness the operation of DM-80 Drain Master, a self-propelled amphibious excavator technology developed by M/s Cleantec Infra Pvt Ltd for the cleaning and desilting of Barapullah drain. This initiative has been undertaken under the Waste to Wealth Mission, Office of the PSA to the Government of India.
Speaking on the occasion, Prof. Ajay K. Sood appreciated the technology and efforts to clean the Barapullah drain and said, "I am happy to see that the one-year pilot project with DrainMaster DM-80, which is an indigenous technology for cleaning urban drains, has proved to be a success. It exemplifies how S&T can address challenges in handling waste. This pilot project's success at Barapullah Drain gives us the confidence to scale up and implement such technologies to clean our drains across India."
Cleaning open drains in congested areas has always been a challenge in India because there is no or limited access to traditional equipment like Joseph Cyril Bamford (JCB) excavator, Poclain, etc. Additionally, human settlements on both sides of the drain with narrow passages make it impossible to dispose of the collected waste. The Barapullah drain in South Delhi is one such drain that is blocked at various locations with sewage, trash, and debris, resulting in foul odour, vector-borne diseases, unhygienic conditions, and flooding in the monsoons.
To address this critical problem, the Waste to Wealth Mission collaborated with South Delhi Municipal Corporation (now Municipal Corporation of Delhi) to jointly pilot an indigenous, customized excavator – Drain Master DM-80, designed and developed by M/s Cleantec Infra Pvt. Ltd., Mumbai. The DM-80 unit was selected to address the critical gap area of technologies for cleaning congested urban drains clogged with mixed waste, including construction and demolition debris which are very hard to dislodge and remove.
It is a self-propelled, transportable, and amphibious machine with multipurpose attachments capable of removing 50-100 m3/day of waste and overcoming the limits of cleaning urban drains (with widths larger than 7 m) making it an important technology for use in urban areas in India.
The DM-80 unit was operated for one year, from January 3, 2022, to January 2, 2023. During this period, Cleantec Infra operated the unit to clean and desilt approximately a 3 km stretch of the Barapullah drain starting from Sundial Park to Jangpura, removing approximately 3000 tons of waste. The Municipal Corporation of Delhi provided supporting equipment to dispose of the waste removed from the drain.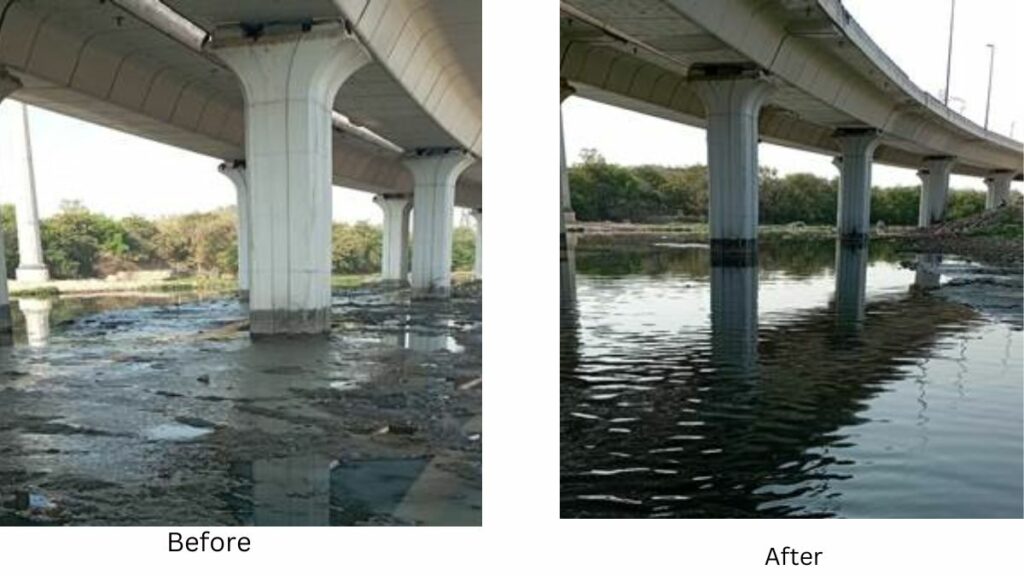 The Municipal Corporation of Delhi is considering deploying the Drain Master DM-80 unit to clean other drains in Delhi.
Dr. (Mrs.) Parvinder Maini, Scientific Secretary, Office of PSA to GoI, remarked, – "Desilting the Barapullah drain is an excellent initiative by the office of PSA under the Waste to Wealth Mission, and we have to see how to take the initiative forward with relevant agencies for implementation at a larger scale."
Also present during the visit were Dr Monoranjan Mohanty, Adviser, Office of PSA, Ms Sakshi Mittal, Additional Commissioner, Municipal Corporation of Delhi (MCD), Mr Binay Jha, Director, Ministry of Housing and Urban Affairs (MoHUA), Mr PC Meena, Engineer-in-Chief, MCD (South), Mr Dilip Ramnani, Engineer-in-Chief, MCD (East), Mr Sudhir Mehta, Chief Engineer, MCD (South), and other officials from MCD, Office of PSA and Waste to Wealth Mission.
About Waste to Wealth Mission: The Waste to Wealth Mission, spearheaded by the Office of Principal Scientific Advisor to the Government of India (O/o PSA), aims to strengthen the waste management system in India by demonstrating innovative solutions and models to achieve a zero landfill and zero waste nation. Its objective is to boost and augment the Swachh Bharat Mission and Smart Cities Project by leveraging science, technology, and innovation.
For details, please visit https://www.wastetowealth.gov.in
Disclaimer: This is an official press release by pib.