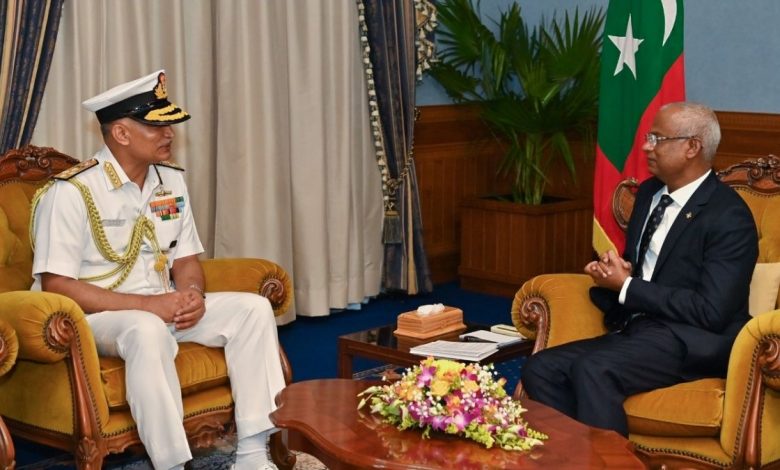 In his first overseas visit after assuming the office of the Chief of Naval Staff (CNS), Admiral R Hari Kumar visited the Maldives from 18 to 20 Apr 22.
During the visit he called on HE Mr Ibrahim Mohamad Solih, Hon'ble President of the Republic of Maldives, HE Mr Abdulla Shahid, Hon'ble Minister of Foreign Affairs, HE Ms Mariya Ahmed Didi, Hon'ble Defence Minister and Major General Abdulla Shamaal, the Chief of Defence Force (CDF).
Adm R Hari Kumar hosted a reception onboard Indian Naval Ship Sutlej on 18 Apr 22, in honour of the Defence Minister of Maldives and the leadership of Maldives National Defence Forces (MNDF). INS Sutlej is currently deployed to the Maldives for undertaking a joint hydrographic survey under the MoU on hydrographic cooperation. The CNS unveiled the first Navigation Chart jointly produced by India and Maldives and handed over hydrography equipment to consolidate the organic capabilities of the MNDF.
CNS also visited MNDF maritime assets and complimented the joint efforts of MNDF personnel and the Indian Navy for maintaining the role worthiness of these assets. He presented a consignment of engineering equipment for further sustenance of MNDF ships, thereby reaffirming India's commitment to the capacity building efforts of the MNDF.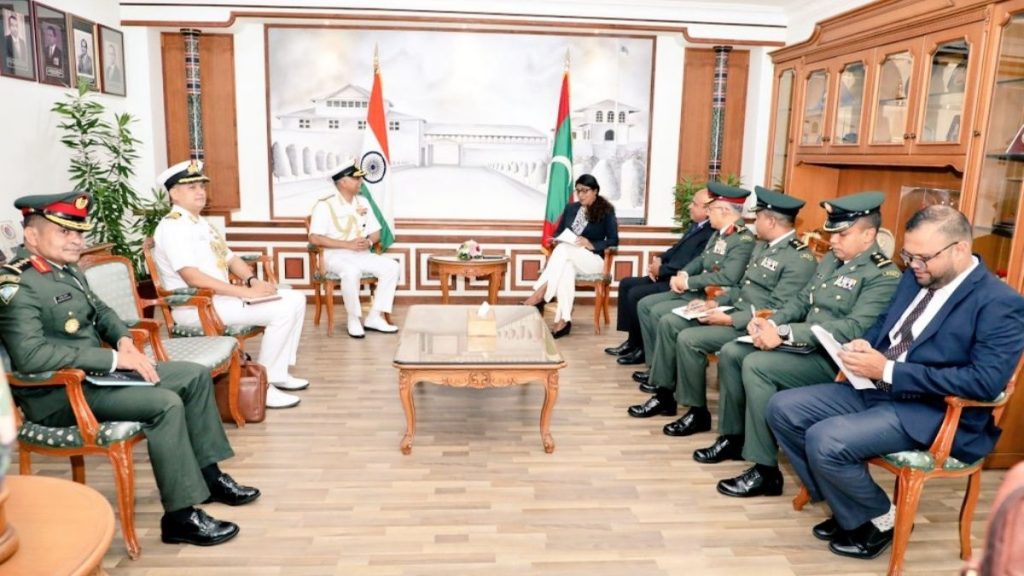 During the period of the pandemic, both countries have worked very closely, under Mission SAGAR and Op Samudra Setu, towards resource mobilisation and movement of personnel. The easing of pandemic related travel restrictions has witnessed several high-level interactions between the two countries over the last few months.
The Defence Minister of Maldives was the Chief Guest at the Passing Out Parade of Indian Naval Academy in November 2021 and Col Ibrahim Hilmy, Commandant of Maldives Coast Guard led the Maldives Delegation at MILAN-2022 hosted by India at Visakhapatnam in February 2022. India and Maldives share common perspectives on maritime security issues in the Indian Ocean and have been working together closely in several bilateral, mini-lateral and multilateral fora such as the Indian Ocean Naval Symposium and the Colombo Security Conclave.
Guided by the 'Five S' Vision of Sammaan (Respect), Samvaad – (Dialogue), Sahyog – (cooperation), Shanti – (Peace) and Samriddhi – (Prosperity), articulated by the Hon'ble Prime Minister of India, the visit of the CNS further consolidated the strong and long-standing bilateral relations between two close maritime neighbours and also identified new avenues of expanding the scope of bilateral cooperation in defence and maritime domain.
Disclaimer : This is an official press release by PIB.