PIB Press Releases
Ayush Minister assures all help in establishing the world's first BioBank of Ayurveda at AIIA
Ayush Ministers visit and Laud the performance of AIIA
Union Ayush Minister Shri Sarbananda Sonowal and MoS for Ayush, Dr. Munjapara Mahendrabhai visited the All India Institute of Ayurveda on Sunday and inaugurated Multi-Purpose Yoga Hall & Mini Auditorium. Both the Ministers highly appreciated the work done by AIIA and assured their full-fledged support for further development of the Institute to make it the world's best Ayurveda Institute. Lauding the futuristic plan of the Institute, Shri Sarbananda Sonowal assured all help for establishing the first Bio-Bank of the world in Ayurveda at AIIA.
Both the Ministers were shown various facilities at AIIA and they took a keen interest in knowing the unique features of the Institute. Shri Sarbanandaadvised the Director AIIA, Prof. Dr. Tanuja Nesari to not only further intensify scientific investigation in the Institute but also to ensure that successful research reaches to masses in their lingua-Franca. While appreciating the wholesome approach of treatment at AIIA, the Minister of State Dr.Munjapara Mahendrabhai advised deepening the focus on integrated and holistic treatment.
Both the Ministers visited almost all major departments and interacted in detail with faculty and students on ongoing treatment and research facilities. The unique feature of AIIA's Panchkarm for Children and Panchkarma for the eyes was also appreciated by the Ministers. After visiting the Ayurvedic Dentistry Unit the Ministers observed
Ayurvedic Surgery facilities. At the Blood Bank, the Cabinet Minister advised to further deepen research on autoimmune diseases and Leukaemia. At Pharmacology Lab, he also advised Institute to work rigorously on enhancing the quality standards of Ayurvedic Medicine. The Ministers also lauded the Ayurvedic Herbal Fumigation practice of AIIA.
Focus of both the Ministers was on competency and practical knowledge. After inaugurating the Multi-Purpose Yoga Hall, shriSonowal asked the students to demonstrate some complex Yogasanas and later appreciated the performance of students.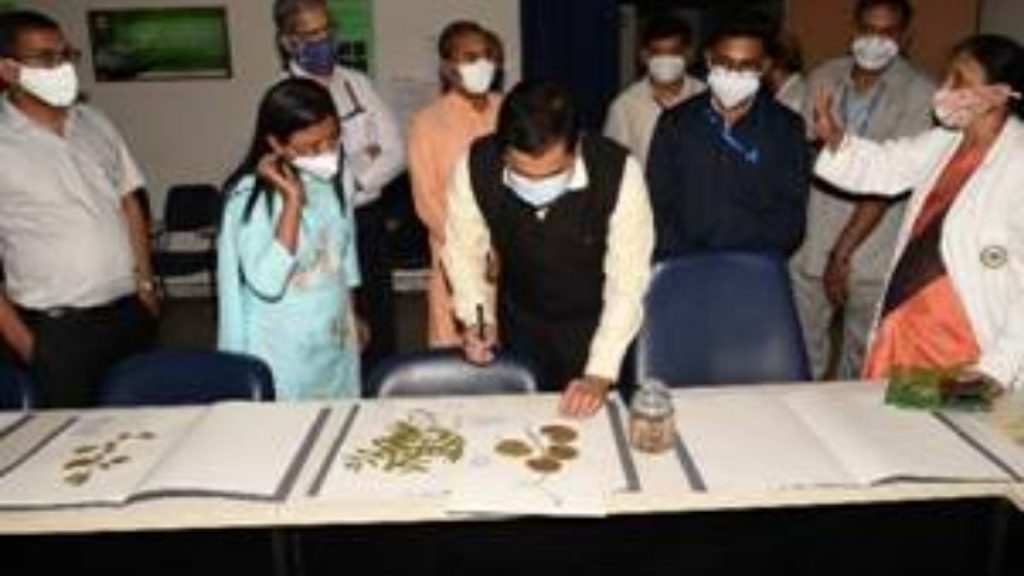 The Minsters were shown a short film on AIIA, focused on scientific clinical studies during COVID times. They expressed satisfaction over the activities of the Institute and COVID Health Centre and COVID Testing Centre.