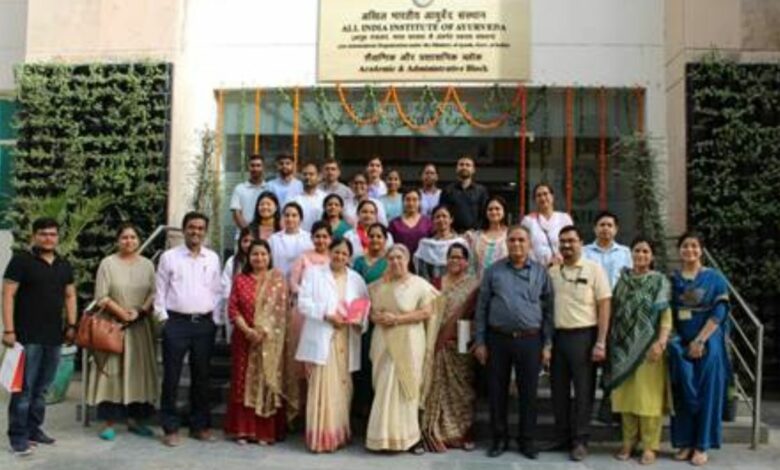 All India Institute of Ayurveda (AIIA) under the Ministry of Ayush kickstarted its celebrations in the run-up to the 9th International Day of Yoga. Dr Hansa Yogendra, Director of Yoga Institute, Mumbai was the Chief Guest for the curtain-raiser programmes. Dr Sanjeev Sharma, Vice Chancellor NIA Jaipur and Dr C.V Jayadevan Principal, Vaidhyaratnam PS Varier Ayurved College Kerala were the Guests of Honour. Prof. Anand More, Dean P.G: Prof. Sujata Kadam, Dean Goa: Prof. Anantharaman MS, AIIA and other senior faculties members were also present at the occasion.
During the run-up to the International Day of Yoga 2023, several events and activities will be organised at the Institute, including lecture series, workshops, poster-making competitions, asana competitions, and performances of Common Yoga Protocol at Leh and Delhi. The Yoga protocol will inspire and motivate individuals to explore the limitless possibilities of their bodies. The other activities like lecture series, workshops, etc will help participants gain a deeper understanding of Yoga and its importance in our day-to-day life.
"In yesterday's world gathering information is very easy, we don't have to struggle unlike before. But do you all think that people are healthier now, the answer is no as the application of knowledge is not being used. Yesterday we don't apply what we learn. Yoga teaches us to lead a balanced life and it should be practised daily to lead a healthy and happier life." Said Dr. Hansa Yogendra.
Dr Tanuja Nesari said, "Yoga Day, observed annually on June 21st, has become a global phenomenon, spreading its transformative benefits across borders. AIIA under the Ministry of Ayush understands the power of yoga to enhance physical strength, mental clarity, and emotional harmony, aligning perfectly with its vision of promoting holistic health practices."
"Yoga is the spiritual face of Ayurveda, in fact, these two are the two different facets of a coin," she added.
The lecture series will open up with a session by Renowned Antonietta Rozzi -President of Sarva Yoga International, Italy – who will address the audience during the session. Dr Rozzi is the recipient of the 2019 Prime Minister's Award for outstanding contribution to the promotion and development of Yoga.
AIIA believes in Integrated Research and in this context, AIIA and IIT Delhi have done a collaborative research titled 'Investigating Neural correlates of Humming bee sound during Bhramari Pranayam'. The outcome of the work has been published in Biomedical signal processing and control.
Disclaimer: This is an official press release by pib.