Digpu News
Joseph Sudhip's enigmatic personality was emphasised by Passion Vista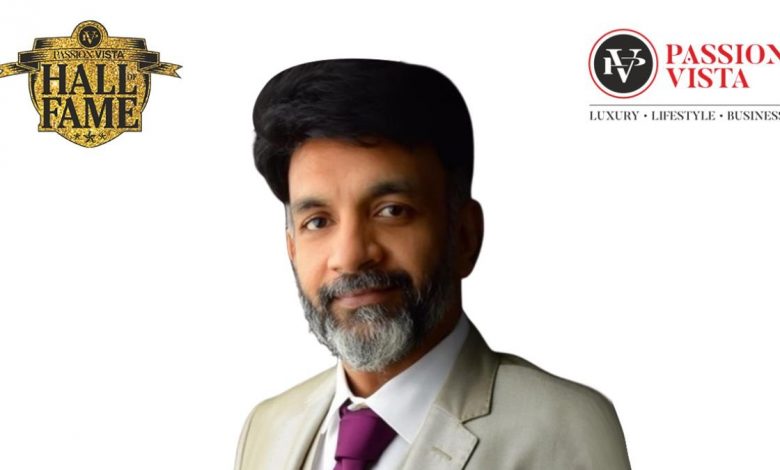 Premier luxury, lifestyle and business magazine Passion Vista celebrates the glorious and illustrious careers of eminent personalities from all over the globe. Their resounding success has made the world take notice of their diligence, persona and work ethos. The much-awaited "Hall of Fame 2022" issue is carefully curated with stories of such individuals who have prestigiously ranked above everyone else and have shared their passion journeys.
Founder of Confitalks.com and President and CEO of Smartnumbers inc, Mr. Sudhip is an International Business Coach and Trainer who coaches Fortune 500 companies' senior managers and CEOs of small and medium enterprises. He makes transformational impact during his coaching sessions, he uniquely blends the techniques from Tharka Shastra and his industry experience in simple and lucid style and that makes him stand out in the industry. Joseph Sudhip holds a bachelor's degree in commerce and law, Masters in International Business from Australia and CMA from USA and is a Registered Corporate Coach. He holds an illustrious career with 18 years of work experience whilst working in different countries as Director of Finance, Corporate Controller etc.
Mr. Joseph's business has five different revenue portfolios which serve different kinds of people/employee needs in an organisation. It starts with business coaching, which is his passion, leading to three main transformative outcomes in mindset, strategy and execution. The man is also the creator of the best selling self help online courses 'Be your better version' and 'Business etiquette'. Confitalks Community was founded to give more meaning to his online courses where practical knowledge was brought in and it caters to all four sources of acquiring knowledge. He is also on the pathway to becoming an author which will make him talk extensively about his unique approach using the age-old Eastern philosophy. Being an outstanding business coach for Fortune 500 companies, he had been referred to by his clients as a nomination, just because of the transformational impact which he was able to create. With his Indian origin background, he learned the age-old wisdom from eastern philosophy like Tharka Shastra or Nyaya Shastra, and started executing the methodology in an artistic way using his 18 years of international corporate exposure in his coaching sessions, and he started getting terrific results for his clients.
It hasn't been an easy task for him as one would presume. Moving out of a high flying finance job to coaching was a challenge in itself, and then to make the challenge more fun for him he had to re-establish himself after shifting back to India. He always envisioned the feeling of giving back to others in the back of his mind. There was a desire to push ahead beyond the scope of coaching and to help entry-level employees and college kids to get the much-needed communication skills, resilience and willpower.
Passion for him has an interesting concept. He says passion is something one does unknowingly and creatively whilst enjoying it. For Joseph, he is persistent on transformation rather than just a change, for him transformation is permanent, like a shift of a caterpillar to a butterfly while change is temporary like a snake changing its skin, wherein snake is always a snake even after the change in skin but for butterfly it's a new world of opportunity. He also disagrees with being in the rat race but also exclaims that even if a person has a tigerish attitude, he at some point does get involved in some sort of a rat race with others.
He proclaims leadership is about serving people and not merely managing them as he believes the workforce is driven more by their leadership and their capacity to inspire. He always ends his keynote addresses with two messages from his own life, i.e. just do things which ever you feel right in your heart, even if there could be a monetary loss, since in long term you would still be a winner and he gives his own example of resigning his job to take care of his parents. Second message is that all the setbacks in life are just a script to fill a chapter when you write a book. He realizes these later on in life and it acts as the sole motivation for his upcoming book. To know more about Joseph, check www.passionvista.com or to nominate email, [email protected]