Digpu News
Dogra Jewel and Poetess Padma Sachdev passes Away, leaves legacy behind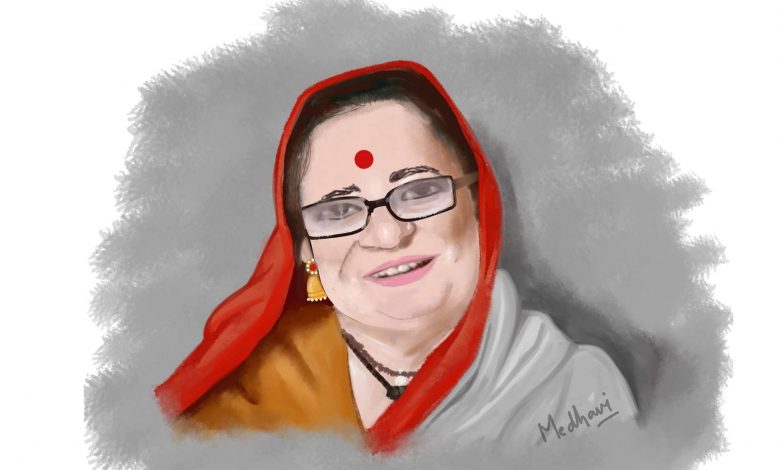 Her love for Dogri language, child-like emotions, appreciation of art and unmatchable laughter will be remembered forever.
Padma Shree Awardee writer and renowned Dogri poetess Padma Sachdev, best known as the Mother Of Modern Dogri poetry, passed away on August 4, 2021, reports TOI. Padma Sachdev breathed her last at around 4 AM at her Mumbai residence. 
Born In A Family Of Priests And Scholars 
Padma was born in 1940 in the Purmandal village of Samba in Jammu, J&K, to a Sanskrit scholar Prof. Jai Dev Badu, as per Wikipedia. Her father completed a double M.A. and LLB and was one of the few highly educated people in the Princely state at that time. Her father was killed during the Indo-Pak partition time in 1947.
She belonged to the lineage of royal priests and scholars. Her mother was a widow at 21.  Padma Sachdev's mother, Shakuntala Sharma, was a simple lady who worked as a school teacher to take care of the children. Her uncle Pandit Chakrapani Sharma was a mighty Pandit (Hindu Priest) and an ardent devotee of Lord Shiva. 
Devotion To Dogri Folk Songs & Dogri Poetry 
Padma Sachdev was passionate about folk songs and singing since her childhood. She recalls in an interview that she sometimes sang Dogri Folk songs and played the Dholki for 6 hours without a break. She is said to have started composing simple Dogri verses by then. The neighbours and her relatives complimented her mother that Padma had a gift for singing.  
Padma Sachdev gained a reputation in the community with a poem that she wrote at the age of 14. It was titled 'Raja Diyan Mandiyan'. This piece of art by a 14-year-old sheds light on power, its abuse, and consequential oppression. The poem 'Raja Diyan Mandiyan' is one of Padma's most revered works. It gave her recognition as an influential writer and revolutionary poetess. 
Early Life and Marriage 
Padma got married to a Dogri poet Ved Pal Deep. Ved Pal was the Local Urdu paper 'Sandesh' editor and was 12 years older than her. They got separated later. This decision led to the loss of her job as a Staff Artist at Radio Kashmir, Jammu. 
Padma's friend and singer Surinder Singh Bandhu, part of the famous 'Singhu Bandhu' musical duo, had developed feelings for her. He suggested Padma move to Delhi and work at All India Radio, Delhi. Further, in 1966, they got married without informing any family members. Padma later sent a photograph of the couple to her mother, who was elated to see her daughter happy. Padma always spoke very highly of her mother-in-law and the whole family.  
She got employed as a Dogri newsreader at AIR Delhi. Padma published her first collection of poems in 1969, which got her the 'Sahitya Academi Award'. Her other published books of poetry include Tawi Te Chanhaan in 1976, Nehriyan Galiyan in 1982, Pota Pota Nimbal in 1987, Uttarbaihni in 1992, and Tainthiyaan in 1999. She also published Amrai and Diwankhana. She wrote her autobiography titled 'Chitt-Chete' in 2015. 
Her Denial Of The Title – Mother Of Modern Dogri Poetry 
Padma is said to be a poetess beyond time. Her works are memoirs of the era they are published in. Her poems had intense flavours of truth, nostalgia, oppression, exploitation of power, and of course, her eternal love for her spiritual mother, the soil of the Duggar Pradesh (Dogra-land), Jammu.  
She humbly denied her title and said it would be wrong to call her the Mother Of Modern Dogri Poetry. She believed that the title 'Mother Of Dogri Poetry' should actually be given to Dogri folksongs. She expressed her sorrow about the loss of folksongs among the new generations.  
Association With Lata Mangeshkar And Disinterest In Films 
Padma Sachdev moved to Bombay with her husband, Surinder Singh. They developed close relations with the likes of Kalyan Ji, Sahir Ludhianvi, Quratulain Haider, Rajendra Singh Bedi, Ved Rahi, and Lata Mangeshkar, whom she fondly called 'Badi Didi'.  
Padma composed Lata Mangeshkar's first Dogri album, which consisted of songs written by various writers. She lost interest in Film songs when she felt that focus was shifted from her mother tongue Dogri to Urdu. She later published several books about her motherland Jammu. She was a religious devotee of her soil and its heritage.  
Love For Mothertongue And Her Take On the English Language 
Padma believed that she was but a servant of the Dogri language. She disliked the shift of modern Dogra families from their mother tongue to English. In a conversation with Rekhta, she said, " We might have adopted the English language as our own now, but it can never be prioritized over Indian languages and dialects. It took us years of struggle and loss of hundreds of brethren to oust the English-speaking people from our country, and we should never forget that." 
Her love for Dogri language, child-like emotions, intense outbursts, appreciation of art, and unmatchable laughter is what everyone will remember Padma Sachdev for.