PIB Press Releases
Technology and Skills are the two important pillars that will transform the future of Young India: Shri Rajeev Chandrasekhar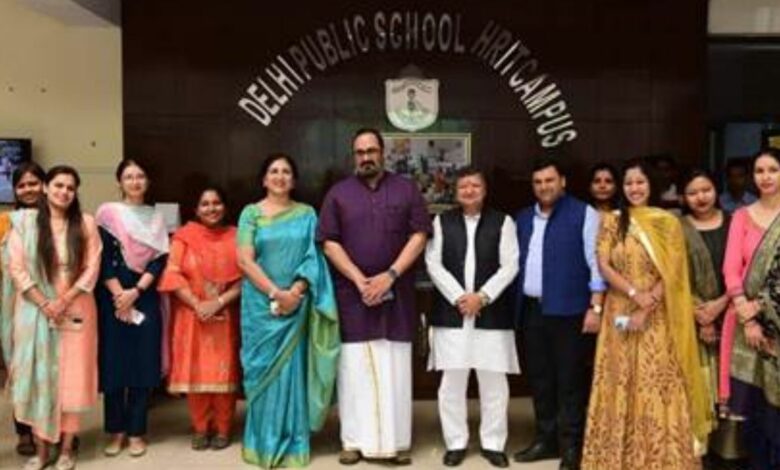 India was never poor, but its Netas made it poor: Shri Rajeev Chandrasekhar
The Minister of State for Electronics & Information Technology and Skill Development & Entrepreneurship, Shri Rajeev Chandrasekhar today drew a comparison between India pre-2014 and post-2014, when Shri Narendra Modi ji took over as Prime Minister, and said the country is today at an inflection point – the most exciting period in its history.
"Never before in the 75-year-old history of Independent India have there been so many opportunities available for Young Indians," the Minister said while addressing a session with students at HRIT Group of Institutions, Ghaziabad as part of the New India for Young India series.
Stating that India "was never poor, but its Netas (leaders) made it poor", the Minister spoke about how in Old India, corruption, nepotism etc was rife and contrasted that with the opportunity-rich era of New India ushered in by the Narendra Modi government through its various proactive and pro-people policies and programmes.
"The age-old narrative of dysfunctional democracy and governance has been changed to functional democracy and maximum governance," he said.
Giving out some data pointers on India's progress in the past eight years, Shri Rajeev Chandrasekhar said, "Today, Young Indians are driving the country's progress in India's Techade. There are more than 90,000 startups, including 110 unicorns, in which Young Indians are playing a big part. They have achieved their success due to their hard work and efforts and because of any connections or famous last name."
Shri Rajeev Chandrasekhar addresses students at HRIT Group of Institutions, Ghaziabad, as part of the New India for Young India initiative
He encouraged students to take up some skilling programmes of their choice, preferably in digital skills, in addition to their educational degrees, saying, Technology and Skills are the two important pillars that will transform the future of Young India.
After his address, the Minister had an interactive session with the students and answered their queries ranging from skilling, R&D and innovation ecosystem, entrepreneurship opportunities and Microsoft co-founder Bill Gates' recent meeting with him.
Shri Rajeev Chandrasekhar along with Dr Anil Agrawal, Rajya Sabha MP, then gave away awards to the best students from the institute.
'New India for Young India' is a series of interactions initiated by Shri Rajeev Chandrasekhar, with school and college students that involve discussions around the developments in the digital and entrepreneurial space under the leadership of Prime Minister Narendra Modi.
The Minister has visited 43 educational institutions across India and interacted with Young Indians across India over the past 18 months.
Disclaimer: This is an official press release by PIB.