PIB Press Releases
India Post Transformed in the Last 8 years to deliver Government services to Aam Aadmi: Shri Anurag Jain
India Post begins to deliver Aadhar, Passport, Pension, Insurance, and Jan-Dhan at the doorsteps with technologies at its command
On Day 3 of AMRITPEX 2023 – National Philatelic Exhibition at Pragati Maidan, the Secretary Department for Promotion of Industry & Internal Trade (DPIIT), Shri Anurag Jain yesterday praised the Department of Posts for tremendous enthusiasm in the adoption of technology and linking it for the transformation of the department in the last 8 years that has made it a key driver to deliver the government services at the doorstep of rural masses.
Speaking on the occasion of releasing a souvenir sheet of 12 stamps on Geographical Indication: Agricultural Goods at the 3rd-day function of AMRITPEX-2023, Shri Anurag Jain said that GI Indications are a great tool to increase the income of farmers, weavers and artisans.
He appreciated that the Department of Posts took up the challenge of email and technology-based communication with great agility and competence and improved upon its delivery mechanism so much that yesterday India Post has become a key driver of delivering government services like DBT, Aadhar etc. at the doorsteps in rural India. Mr Jain also pointed out that Modern Day Dakiya has played an important role in the implementation of Jan Dhan Yojna.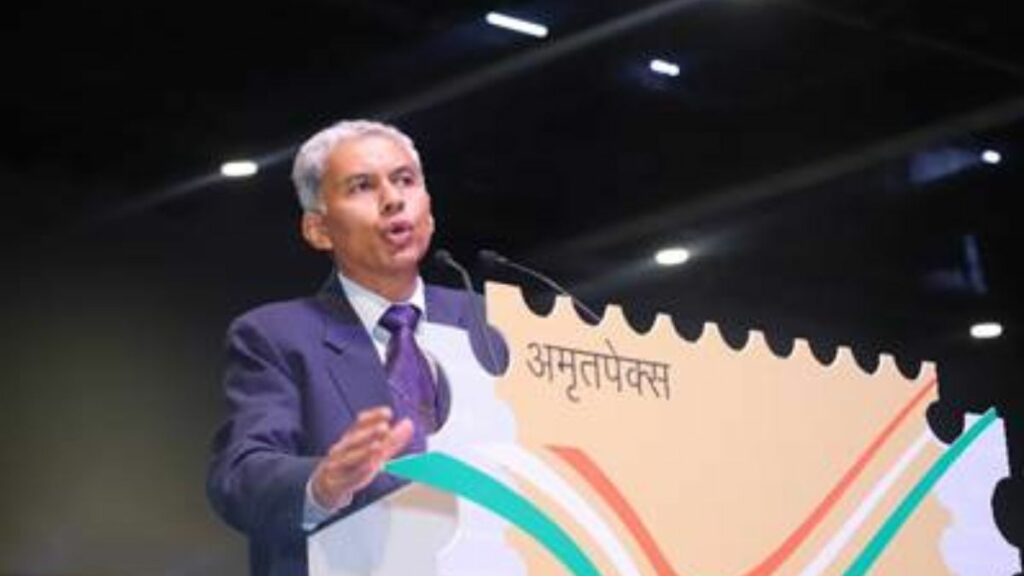 Shri Vineet Pandey, Secretary Department of Posts said that Naye Bharat Ka India Post is ready with a huge workforce of Karmayogis with digital infrastructure to serve the nation. He also said that India Post is partnering with different ministries of the Government of India in better implementation of various schemes and programs, especially in far-flung areas of the country.
Day 3 of AMRITPEX 2023, has seen the participation of more than 2000 school students and their engagement in various workshops like storytelling, envelope art with philately stamps, paper crafts etc.
On the 3rd day of AMRITPEX 2023, a Kavi Sammelan was also organized in which leading poets of the day took part to regale the participants in the exhibition. A huge crowd took part in the Kavi Sammelan to respect the occasion of India Post, and the day concluded with the mesmerizing performance of Piyush Mishra from Ballimaran Band which drew a large audience at the same time.
Disclaimer: This is an official press release by PIB.