Digpu News
Digpu News Network inks partnership with Khaleej Times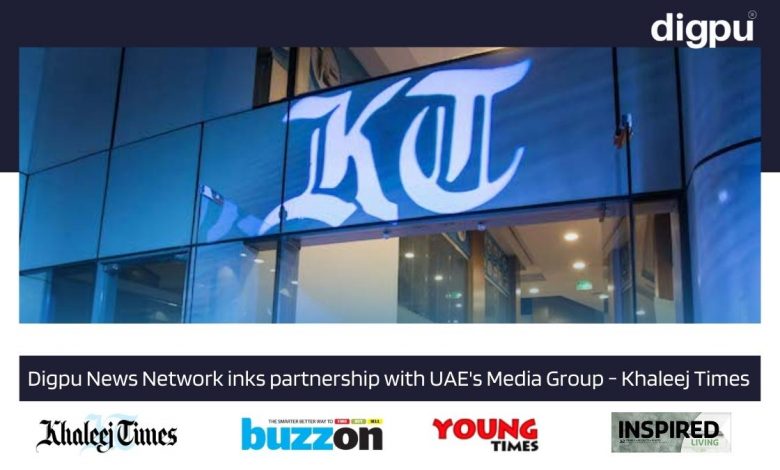 The partnership between the two media giants will help Indian start-ups, real estate companies, food and agro exporters, art & culture, tourism and tech brands to flourish in the UAE and other Western Asian countries
New Delhi, India : Continuing with its efforts towards showcase and motivate outstanding Indian talent throughout the globe, India's leading PR and news distribution company Digpu News Network has inked a partnership with UAE-based media group Khaleej Times (KT). The exclusive partnership is initially for a period of three years, wherein Digpu News Network is authorised to publish news content, business related news, corporate press releases and individual achievements on Khaleej Times and its group publishers such as City Times, Buzz on, Inspired Living and Young Times. 
Opening a window for Indian start-ups to leverage funding opportunities in West Asian countries
European companies are seen to be currently leveraging funding opportunities available in Western Asian countries such as the UAE, Saudi Arabia, Oman, Qatar, and Iran. It is an opportunity for Indian start-ups to showcase and pitch unique business ideas, products and services to all these countries. Through Digpu and its associate PR agencies, Indian start-ups will be able to publish their brand stories on Khaleej Times and its other group news channels. 
The Dubai – UAE real estate arena is a priority area for top property investors worldwide. A total of AED 39.66 billion investment has been spent in Dubai Real Estate in last one year (2020-21) from countries like India which is on top list followed by Saudi Arabia, China, Egypt, Jordan, the US, UK and Canada. With a platform now available for publishing stories of success and forward looking plans, creative companies and start-ups from the realty industry will be able to mark their presence in the Dubai real estate market and establish potential opportunities.  
Indian food and agriculture export size to increase 20-25% in the first year 
India's is a big exporter of food and agriculture products in the UAE and other Western Asian countries. The UAE, incidentally, is the second-largest export destination for Indian agriculture commodities. In 2020-21, India's agricultural and food product exports to the UAE stood at $1,926 million, and in the first three quarters of 2021-22, the exports to the country crossed over $1,865 million. 
The new partnership between Digpu News Network and Khaleej Times will aim at increasing the exports of Indian food and agriculture products by 20-25%. This would be done by boosting their reputation and brand presence in the local UAE market and other Western Asian countries. Digpu News Network plans to meet and present its business and promotion ideas to APEDA (Agricultural and Processed Food Products Export Development Authority) soon. APEDA, is an apex organisation under the Ministry of Commerce and Industry, and is mandated with the responsibility for promotion and development of the export of various agro products, said Kunwar Devender Singh, Founder, Digpu News Network.
UAE Tourism an opportunity for several Indian industries 
Dubai, in the UAE, had the highest value of international tourist receipts of more than US$21 billion in 2018. This indicates the opportunities available for Indian art and craft, textile products, readymade garments, gems and jewellery products, food and agriculture products, toys and allied products, tech services and other industries in the UAE. Digpu is on a mission to promote Indian talent and skills in the global market, and its partnership with Khaleej Times will help talented Indians to establish business relationships and explore new opportunities in Western Asian countries, such as the UAE, Saudi Arabia, Oman, Qatar, and Iran. 
Khaleej Times, founded in 1978, is the UAE's most widely-read and longest-running English daily newspaper. With our continuous efforts, we hope to increase an overall 20-25% Indian export size in the UAE market in next one year. We will work on various media initiatives for eligible entrepreneurs throughout the globe in addition to content distribution," Singh elaborated.
Digpu News Network has previously introduced hundreds of news publishers to the PR domain
Digpu News Network had previously introduced hundreds of regional news networks in India and abroad by promoting their in-depth journalistic works on its associated news partners' websites. The company had earlier signed similar deals in the past with Indian mainstream media channels such as Hindustan Times, News18, Live Mint, Money Control, Forbes India, First Post, Desi Martini, Vigor Column, Trendy Bash, IPR and many others. For more information, visit https://network.digpu.com