PIB Press Releases
C-DOT  bags 3 awards for its indigenously designed and developed innovative Telecom solutions at the 12th Annual Aegis Graham Bell Awards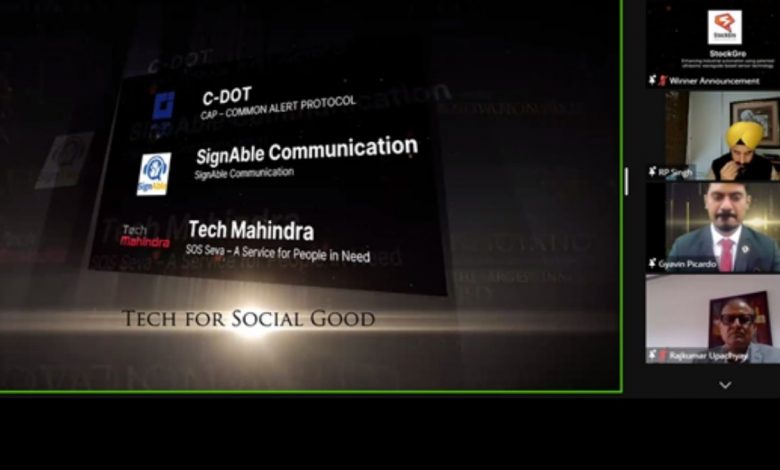 C-DOT Declared Winner in the categories of Tech for Social Good, Preventive measures to combat COVID 19, and Innovation in Lockdown Management
Centre for Development of Telematics (C-DOT), the premier Telecom R&D centre of the Government of India has bagged three awards at the 12th Annual Aegis Graham Bell Awards in a virtual ceremony on 25th Feb 2022 for its indigenously designed & developed innovative Telecom solutions in various categories. CDOT is declared TOP WINNER in three categories as below
1. Indigenous Early Warning Platform for Disaster Management & Preparedness based on ITU's Common Alerting Protocol (CAP) in the "Tech for Social Good" category. This state-of-the-art solution is declared the top winner in this category. This system can effectively send location-based disaster alerts in vernacular language to the people in disaster-prone areas during various natural hazards like Cyclones, Floods, Pandemic, etc. over multiple media including Mobile Phones, TV, Radio, Railways Announcement & Display Systems and Coastal Sirens thereby significantly reducing the loss of lives and property.
C-DOT's cost-effective solution has been successfully deployed in the Integrated Alerting System project of the National Disaster Management Authority (NDMA) for nationwide implementation. The platform has been tremendously used during Covid 19 and Cyclones Nisarga, Amphan, Tauktae & Yaas in an efficacious manner. It is noteworthy that more than 350 Crore SMS have been sent using this robust platform.
2. C-DOT SAMVAD – A Unified Platform for Secure Messaging and Calling Solution. This solution also secured the first position in the category for "Innovative in Lockdown Management". CDOT SAMVAD offers secure messaging, voice and video calls, video conferencing in a secured manner. It has been exclusively designed to cater to various security concerns with a set of unique features to enhance its usability for official communication/meetings. SAMVAD offers a high degree of customization to cater to diverse deployment scenarios.
SAMVAD d can be easily hosted on a dedicated network infrastructure or a cloud-based environment that remains within the administrative control of the user organization. Additionally, SAMVAD ensures data protection against cyber-attacks with its rich security and encryption capabilities. The solution has proved quite effective in facilitating "Work From Home" during the Covid times. CDOT SAMVAD has been deployed in various Government departments including a few Strategic Agencies.
3. C-DOT Quarantine Alert System (CQAS) has won the first prize in the category of "Preventive Measures to combat Covid 19". CQAS is a comprehensive solution for effective monitoring of the Covid quarantined persons and detection of quarantine breaches based on geo-fencing and caters to both smartphone and feature phone users. The entire project has been conceptualized and implemented by the Department of Telecommunications (DoT) and C-DOT along with TSPs by making use of existing resources and not incurring any additional cost. CQAS has also been used as an Oxygen Digital Tracking System (ODTS) to track Oxygen carrying vehicles since May 2021. CQAS is currently being used by 11 States and Union Territories.
Dr. Rajkumar Upadhyay, Executive Director, C-DOT & Chairman, C-DOT Project Board along with Dr. Pankaj Dalela, Director, C-DOT & Member, C-DOT Project Board and Ms. Shikha Srivastava, Director, C-DOT & Member, C-DOT Project Board; Project leaders Saurabh Basu , Biren Karmakar and Anvaya Rai virtually attended the award ceremony.
Dr Rajkumar Upadhyay appreciated the efforts of young engineers and technology leaders of C-DOT who have been relentlessly innovating to realise the Hon'ble Prime Minister's vision of "Atmanirbhar Bharat".
Disclaimer : This is an official press release by PIB.